Aceclofenac Paracetamol Serratiopeptidase Tablet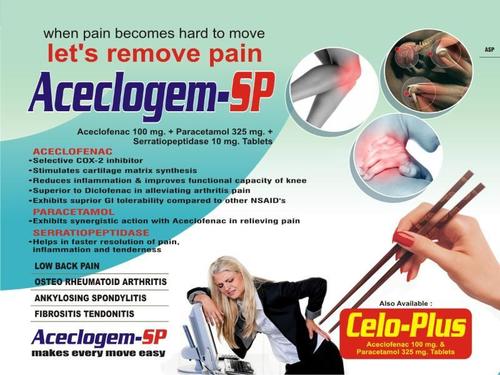 Aceclofenac Paracetamol Serratiopeptidase Tablet
Product Description
We are an eminent entity engaged in offering an extensive range of Aceclofenac Paracetamol Serratiopeptidase Tablets. Our offered range is precisely formulated as per the industry defined guidelines. A team of adept professionals with years of experience in the pharmaceutical industry, formulates these tablets using scientific techniques and basic ingredients so as to maintain the set industrial norms.
Features:
Highly effective
Accurate composition
No side effects
Frequently Asked Questions:
1. What is using aceclofenac paracetamol and serratiopeptidase capsules?
Ans. Aceclofenac+paracetamol+serratiopeptidase is used for pain alleviation. It relieves pain in situations like headache, slight migraine, musculoskeletal ache, or painful menses. Aceclofenac + paracetamol + serratiopeptidase is an aggregate of three medicines: aceclofenac, paracetamol and serratiopeptidase.
2. What are serratiopeptidase drugs used for?
An. Serratiopeptidase is frequently utilized in oral surgical operations for its anti-inflammatory purpose after impaction surgical operation, maxillofacial trauma and infections but its use has to be restrained in instances of abscess due to its fibrinolytic pastime.
3. What are the side outcomes of aceclofenac paracetamol and serratiopeptidase tablets?
Ans. Aceclofenac + paracetamol + serratiopeptidase 15mg tablet can purpose diarrhea, nausea, heartburn, vomiting, belly ache, indigestion, loss of appetite, and so on., that goes away when the frame adjusts to the medication.